2023 Milwaukee beer garden guide
After spending an overly long winter and non-existent spring watching the snow fall outside your window, your dreams of warm breezes, the glowing sun and a healthy dose of gemutlichkeit are finally reality.

Spring is finally here – at least for now – so it's time to raise the stein to the sunny weather at an area beer garden.

Here's where to find them, when they're open and what they're serving.

Check back often as we'll keep adding more as they open for the season.

414, let's have one more!

Estabrook Beer Garden

4600 Estabrook Pkwy., (414) 219-9065

estabrookbeergarden.com

"Soft" open now but with an official opening ceremony on Friday, April 21, including a 6 p.m. keg tapping and free beer for an hour.

Estabrook Park – serving daily from noon until 10 p.m., with last call at 9 p.m. – carries the honor of being the first public beer garden in the U.S. since Prohibition.

The beer garden, which offers up plenty of shaded seating and a river view, features imported beer from the Munich Hofbrauhaus, along with brats, hot dogs, freshly baked soft pretzels, a Friday fish fry and schnitzel on Saturdays and Sundays.

Hubbard Park Beer Garden

3565 N. Morris Blvd., Shorewood, (414) 332-4207

hubbardparkbeergarden.com
Opening at 3 p.m., Monday, April 1o, this Old World Beer Garden in Shorewood is located along the Oak Leaf Trail just south of Capitol Drive.

The garden features locally brewed beers, non-alcoholic drinks and a menu featuring sausages, hot dogs, German-style pretzels and Wisconsin cheese. There's also a great fish fry on Fridays.

The beer garden's availability is weather-dependent, but on days that are sunny and above around 60 degrees, Hubbard Park will serve starting at 3 p.m. on weekdays and noon on weekends.

The Landing at Hoyt Park

1800 N. Swan Blvd., Wauwatosa, (414) 302-9160

friendsofhoytpark.org/the-landing

Opening for the season on May 19, the Landing – with seating both outdoors and inside this amazing great hall – features a changing list of local craft and imported beer, along with red, white and sparkling wines and a food menu including Cranky Al's pizza, giant pretzels, obatzda, beer brats, hot dogs, popcorn and fountain drinks.

A schedule of live music is also posted on its website.

There's a playground nearby and one of the best pools in the area is on the other side of the fence.

South Shore Terrace

2900 S. Shore Dr., (414) 617-1147

southshoreterrace.com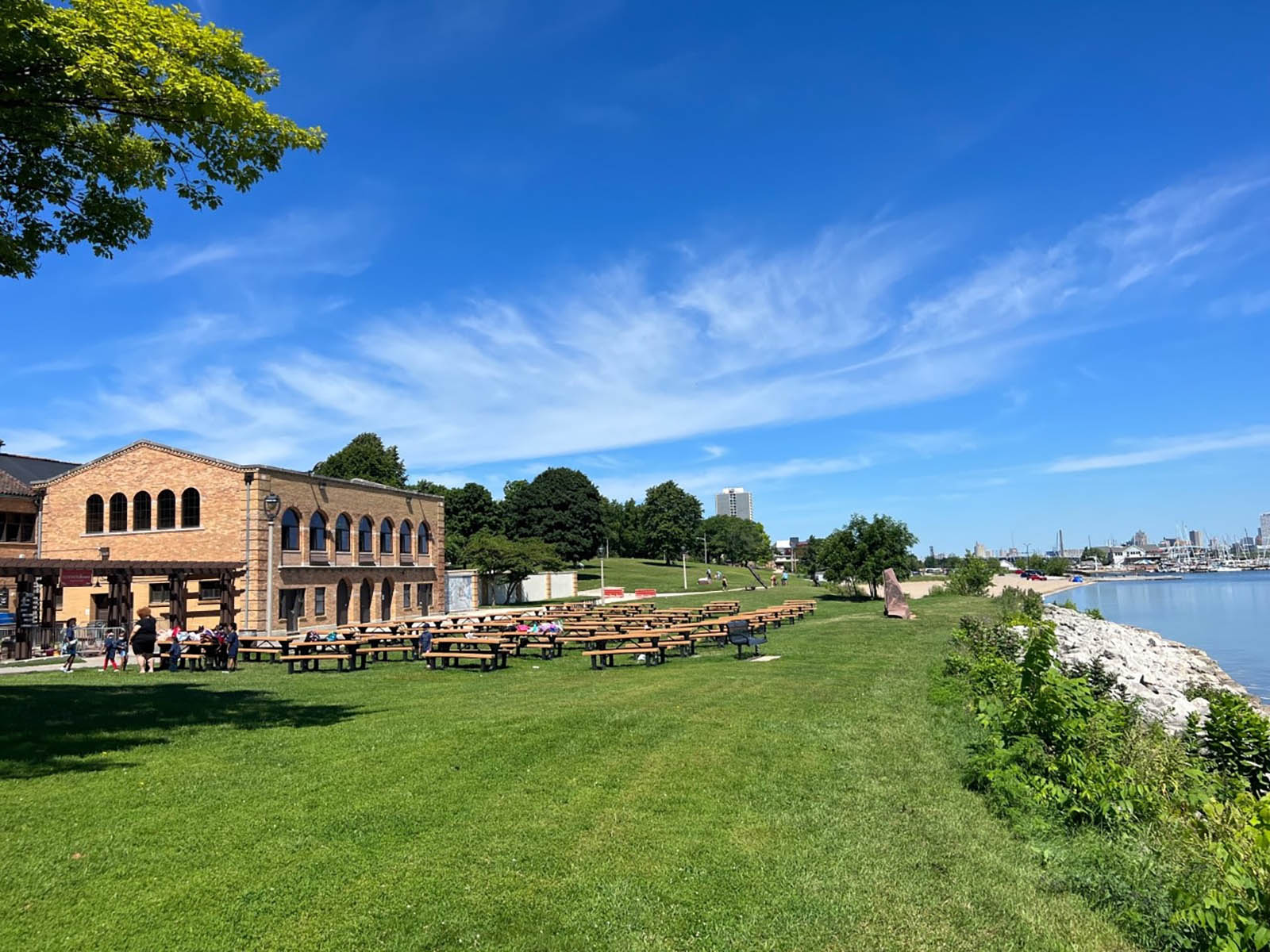 South Shore Terrace is the first of the County Parks beer gardens to officially open this year, with a keg tapping slated for 4 p.m. on Wednesday, April 12.

This beachside concessions area in South Shore Park features the Miller 1855 Bar, with its nearly 30-foot concrete and cedar counter complete with 20 tap handles. The gathering space, open spring through fall, also includes a cedar pergola, two stamped-concrete stages, gas fire pits to keep everyone cozy during cooler weather, seating and a glorious view of Lake Michigan and the Downtown skyline.
And to help soak in the sights and the suds, there's also a menu of farm-to-table snacks including pretzels, cheese boards, fries, sandwiches, Friday fish fry and more.

Lakefront seating returns thanks to the support of Molson Coors.

The Tap Yards

Fox Brook Park, Brookfield

Menomonee Park, Menomonee Falls

Schlitz Park, Milwaukee

Minooka Park, Waukesha

Ackerman's Grove, West Bend

thetapyards.com

The Tap Yard group of dog- and family-friendly beer gardens has added Menomonee Falls to its list of locations for 2023 and will host grand openings at all sites on Wednesday, May 3 at 4 p.m.

Like the other sites, the Menomonee Falls location will have a range of events, food trucks and more, along with craft beer, wine, hard seltzers and canned cocktails. Wednesdays will offer beer and craft events, Thursdays at 7 is America's Pub Quiz, bingo is on Fridays at 6, Saturdays have trivia at 6 and Sundays offer extreme bar bingo at 4.

Traveling Beer Gardens

travelingbeergardens.com

For the second time in the ten-year history of the Traveling Beer Gardens, there will only be one beer garden tour instead of two. That was also the case the first year. The longstanding Juneau Park stop has been skipped by the traveling beer garden this year, because the park will open something special in May about which organizers expect to release further details in the coming weeks.

Here's the complete schedule:

Greenfield Park: May 17-29

Froemming Park: May 31-June 11

Cooper Park: June 14-25

Grant Park: June 28-July 9

Lake Park: July 12-23

McCarty Park: July 26-Aug. 6.

Doctors Park: Aug. 9-27

Sheridan Park: Aug. 30-Sept. 4
As always, the former fire engine and its trailers will serve products from Sprecher and other local breweries. There will again be free beer and root beer on the first day at each park, while supplies last. The Parks Department will offer brats, hot dogs and Milwaukee Pretzel Company soft pretzels, among other beer garden favorites, for sale. Food trucks will rotate weekends at the beer gardens, offering a variety of dishes.

The Vine at Humboldt Park

3000 S. Howell Ave., (414) 257-7275

thevinehumboldt.com
Tentative opening: Thursday, May 25.

The Humboldt Park beer and wine garden is called The Vine, and it offers something for everyone to drink with four wines and four brews on tap at the Humboldt Park Pavilion.

The reworked wine and beer garden is open Tuesdays through Fridays from 5 until 10 p.m. as well as Saturdays and Sundays from 11 a.m. until 10 p.m. Last call is 9 p.m.

Whitnall Beer Garden

8831 N. Root River Pkwy, Franklin, (414) 514-9744

whitnallbeergarden.com

Tentative opening: Friday, May 5.

What started as merely a popular stop on the Traveling Beer Garden's summer sprint officially grew into a permanent, Milwaukee County Parks-operated craft beer garden in Whitnall Park.

It boasts a lineup of 24 craft beer taps, complete with ciders, hard sodas, wines and other refreshments in tow – as well as a lineup of local musicians performing from 5-8 p.m. every Saturday and Sunday.

Whitnall's suds spot also comes with barbecue to help soak up the beer, with The Gift of Wings Grill serving up snacks and food throughout the summer.