First COVID. Now flooding. St. Louis businesses aren't sure how they'll recover | Local Business
ST. CHARLES — Charlie Downs has been digging out since Tuesday morning.
The St. Charles location of his popular barbecue chain, Sugarfire Smokehouse, was inundated with water and muck in Tuesday's unprecedented rain and floods. The walk-in cooler and dry storage were flooded. Every compressor was covered with water. And, with supply chain problems, it might take six months or more to get new ones, he said.
"In all of my 40 years in the restaurant industry, this has never happened," said Downs, a Sugarfire co-owner. "The water was 3 feet or higher inside the building, from the dining room to the kitchen."
It has been an especially rough few years for business. The COVID pandemic hit almost every company hard, supply chain problems made it difficult to keep inventory on hand, available labor seemed to dry up overnight and inflation has only compounded the problems.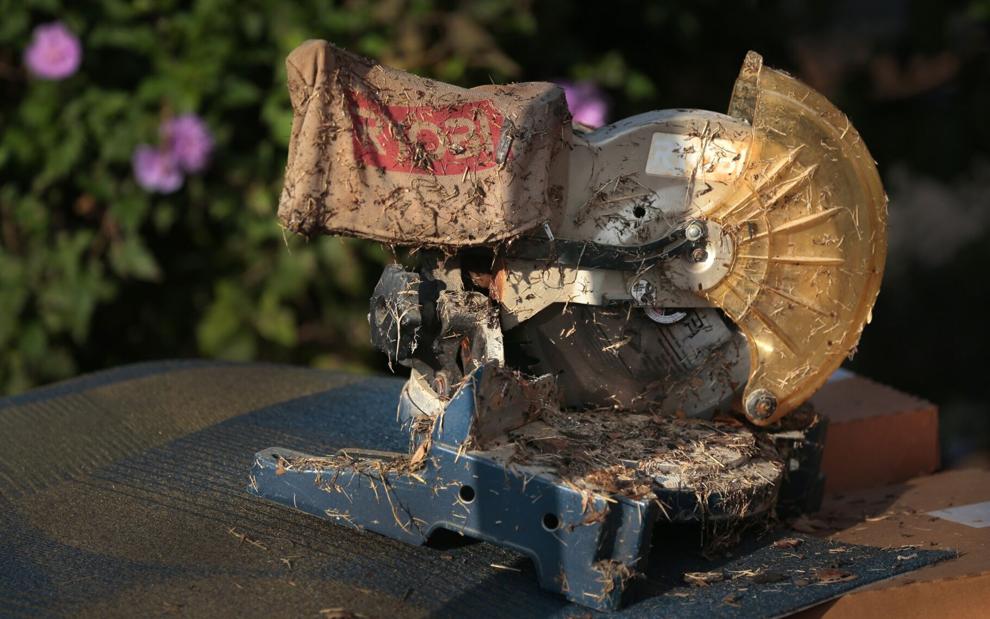 And then 9 inches of rain fell in one day — and more, in some locations. Flash floods tore at the fabric of local businesses like mice.
A bar in Old Town St. Peters lost 100 cases of beer. A home fragrance store in Brentwood got 4 to 5 inches of water in its showroom. A Florissant insurance office had to throw out all of its furniture. A St. Peters flooring company owner felt like he had to start his business all over again.
Then, for some, things got even worse on Thursday. Another storm blew through the area, dropping two to four inches of rain in roughly 2½ hours.
Katie Reuther's basement at her gift and decor shop Whistle Stop 301 was completely flooded Tuesday. Her electrical panel was destroyed, but she thought she could make it: The main floor where she kept all her merchandise was mostly untouched.
On Thursday, two feet of water flooded her basement again. Without air conditioning to draw moisture out of the air, Reuther had to call vendors to come get their stock. The shop emptied out.
"It was a very humbling, bad day," she said.
A worker is set to come out next week to see what it would take to get the electricity back online, but between supply chain slowdowns and required inspections, it could be weeks before she can reopen.
"It's been one thing after another," she said.
Left Bank Books hit twice
At the restaurant Hobo's at the Legion in St. Peters, an army of employees and volunteers was cleaning out trash and scrubbing down floors and surfaces with bleach. Owner Brian Ward said they lost an old computer system, along with the hundred or so cases of beer, when the basement flooded, but it could have been much worse.
"Every year we do a spring cleaning and a fall cleaning, but I think we'll skip the fall cleaning this year," he said.
Next door to Hobo's, Michael's Flooring Outlet owner Michael Reynolds walked through a thin film of mud on the ground in his showroom.
Reynolds said he built his business starting in his 20s with almost nothing, and in some ways, it felt like he was starting over again — with a massive cleanup.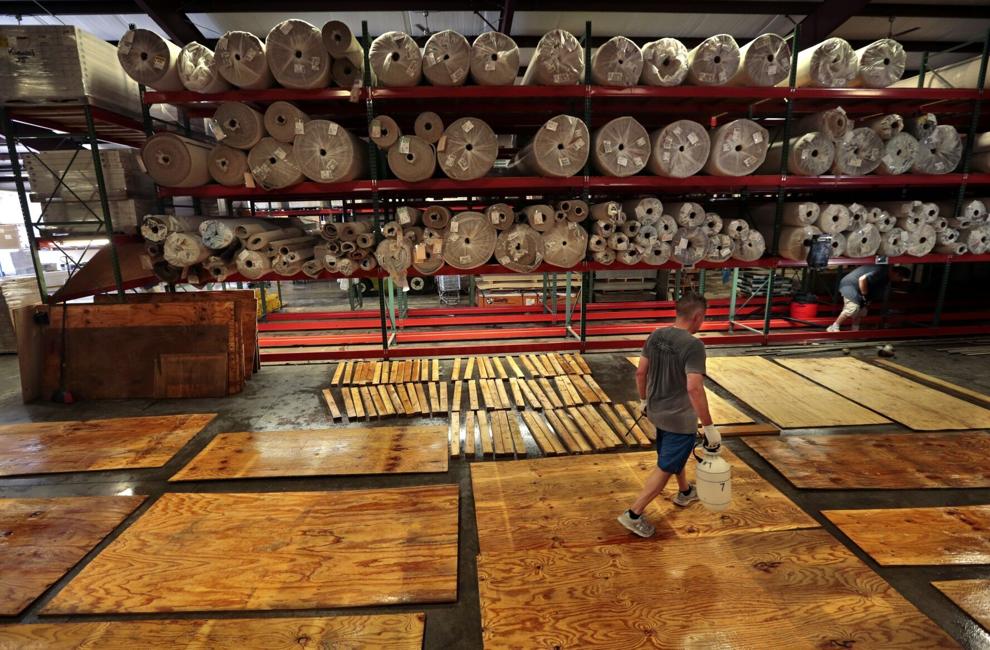 He said it was important to him to support his 15 employees, who were dedicated to the business and had families depending on their paychecks. He'd find a way, he said, but he hoped the city or state would step in to help, too.
"I will persevere," he said.
Left Bank Books in the Central West End, one of the city's literary hangouts, was pounded twice by flooding.
Tuesday's deluge was relatively minor, said owner Kris Kleindienst. The floor of the basement, where the store sells used books, was wet and so, to a lesser extent, was the floor on the main level, where new books are sold.
"We thought we had it under control," Kleindienst said, until Thursday's rain brought a 6-inch surge of storm water from the sewer into the basement.
The staff saved what they could, she said, including electrical equipment and the used books from the bottom shelves. But they lost boxes of books and probably the built-in pine bookshelves in the basement. In addition, water from the street level caused the basement ceiling to sag and damaged the drywall.
Though the water has drained, humidity from the soaked carpets threatens the remaining books in the store.
"This is a next-level wet," Kleindienst said.
At K. Hall Designs in Brentwood, near Deer Creek, which sells home fragrance and personal care goods, a Servpro crew was hard at work Wednesday power washing dirt and grime from the floor. One man was sucking up that water with a wet/dry vacuum, and giant fans were blowing the floor dry.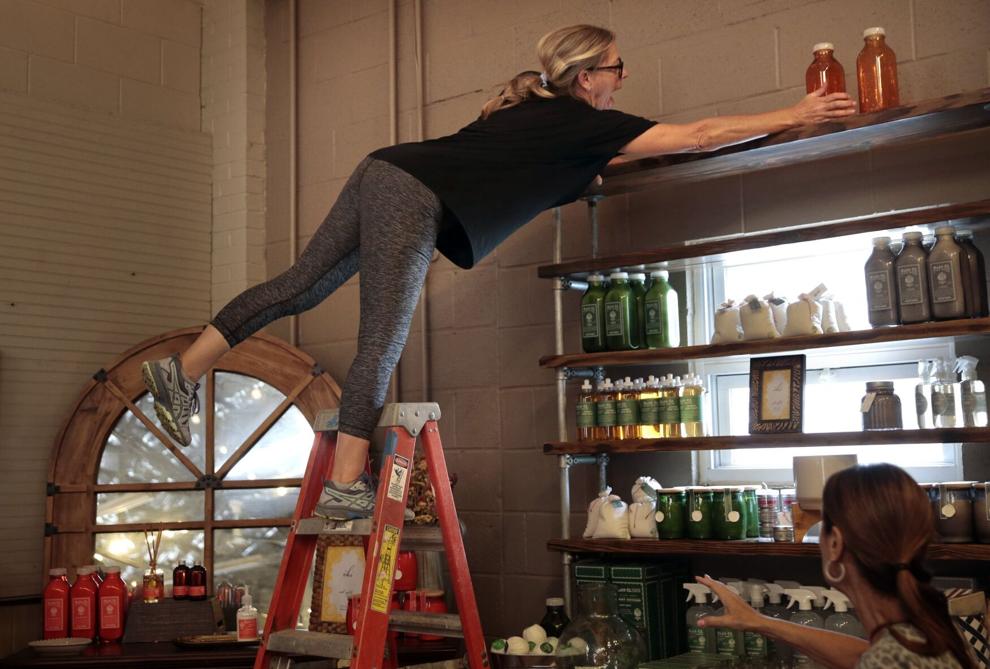 Scott Miller, president and CEO of K. Hall Studio, which owns K. Hall Designs, said store workers had moved much of the home fragrance and personal care merchandise from one side of the store to the other, allowing the crew to deep clean.
Miller said this week was the fourth time the business had flooded in seven years — often enough that the store installed wainscoting along the walls, so it could be easily removed and replaced in case of another flood.
The flood was another blow to a business already smarting from the construction that has closed Manchester Road for months, he said.
Wine coolers, water heaters ruined
At the hard-hit Florissant Meadows Shopping Center in Florissant, the American Family Insurance agency was open on Wednesday, sort of.
Agency owner Felicia Miller was in the office to direct customers to another agency nearby, where owner Tom Schipp had allowed her staff to set up a temporary office.
About two feet of water made its way into Miller's office, ruining furniture, a desktop computer and just-ordered marketing materials. The shopping center management pledged to replace the flooring, dry wall and electrical wiring, she said.
That will help, especially because Miller did not have flood insurance. She's only owned the business for a year, she said, and her start-up spending priorities did not include flood insurance.
In St. Peters, John Polezogopoulos finished pumping water out of the basement of his 311 Wine House and Beer Garden and surveyed the wreckage that remained.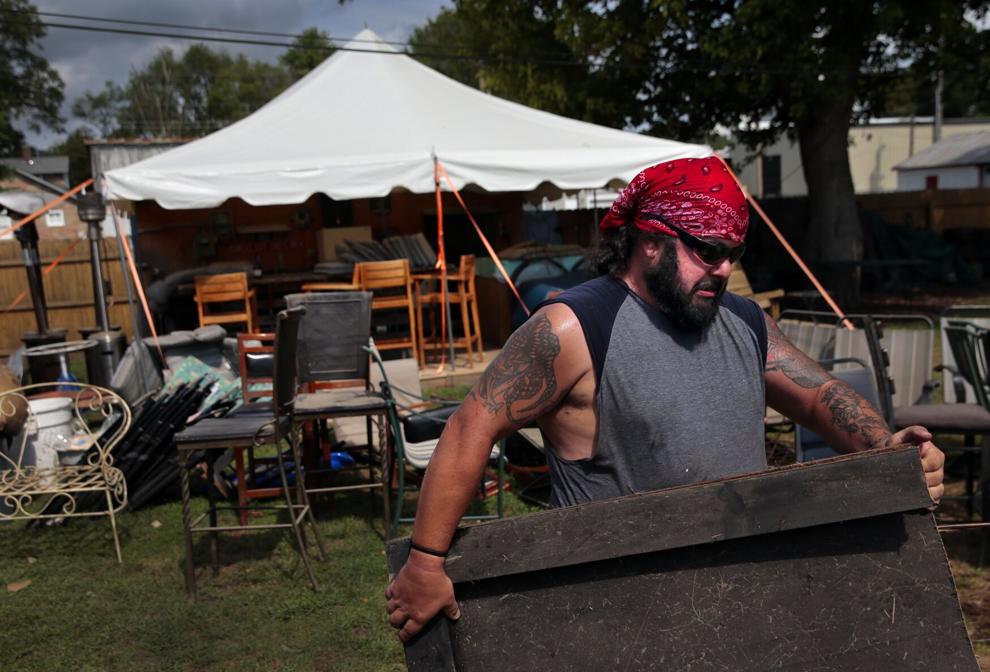 He said Tuesday he'd have to remove all the food from expensive coolers that were likely ruined, and he worried his air conditioner and water heater would need to be replaced. Insurance likely wouldn't cover it, he said, so he was expecting to take the hit himself.
Polezogopoulos hoped the public might come through to help, noting that while it was great that folks had raised tens of thousands of dollars for a nearby animal shelter that had lost 10 puppies in the storm, there were people like him who were hurting, too.
"We lost stuff," he said. "The residents down there, they need a freebie."
Kyle Reuther, the husband of Katie Reuther from Whistle Stop 301, said it will be crucial for people to keep small, local shops in mind as they do their shopping, long after the flooding recedes.
"They're going to need help and support," he said.