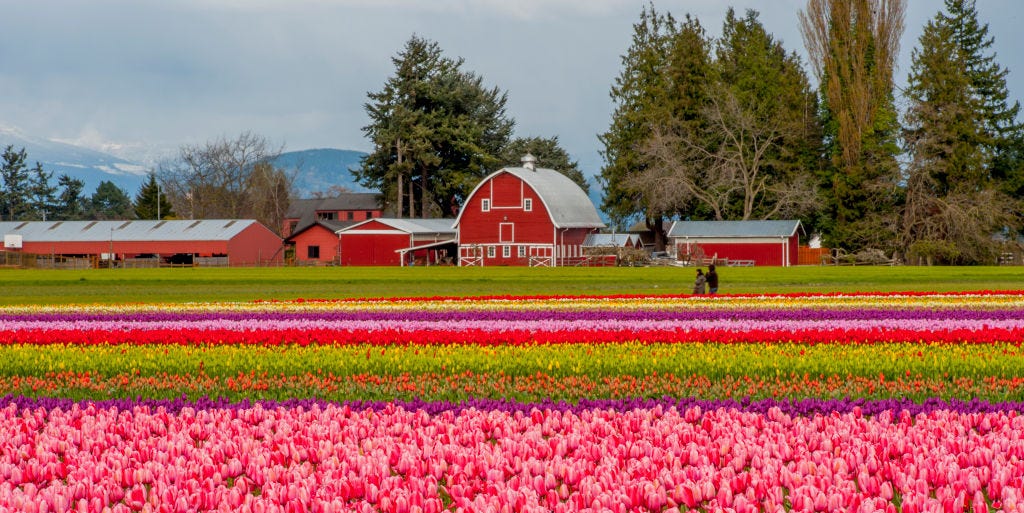 10 Best Tulip Festivals in the U.S.
Although the world's largest tulip festival is in Canada, you can still get on the road to check out these beautiful flowers in the United States. Across the country, there are so many exciting festivals and events to celebrate the colorful multitude of tulips and local culture. Typically, tulip season runs from March until mid May of each year. However, the best picking time and prettiest blossoms appear in the middle of April. Don't miss out this spring and make plans to get on the road to enjoy some of the most dazzling tulips in the the country!
Nokesville, VA
TBA April Date (will run three weeks in the month)
Situated on an 100-year old dairy farm, Burnside Farms hosts its annual festival to showcase over 150 varieties of tulips during their pick-your-own event. Besides exploring rainbow-hued fields of flowers, consider packing your favorite snacks to eat in the farm's courtyard. On weekends, you can skip bringing a picnic basket and get tasty bites from the farm's food vendors and listen to live music. Bonus perks at the fest includes a list of playful activities for the kiddos and grownups to enjoy like hop-on/hop-off wagon rides, grain bin basketball, corn hole, short film cinema in the barn, playhouses, and a real life-size caboose. The season runs for about three weeks and will be announced based on flower growing rates and spring weather patterns. Follow updates from the farm's announcement page, Facebook and Instagram accounts for the official announcement of the spring dates.
Mount Vernon, WA
April 1-30
Take a trip to the northwestern corner of Washington state to tour gorgeous tulip fields of the community in Mount Vernon. The month-long festival includes garden venues at four separate farms. Garden Rosalyn is home to a manmade lake with a charismatic resident flock of ducks and geese, marketplace, flower stand, and beer and wine garden. RoozenGaarde includes a 5+ acre display garden with more than 1 million blooms and over 25 acres of row after row vibrant tulips. Tulip Town's on-farm attraction has 50 varieties of tulips, indoor displays, fresh cut tulips, trolley ride, food, beer and wine gardens, and specialty espresso drinks. Tulip Valley Farm offers U-Pick options, Afternoon Tea Time in the tulips, and guided painting classes. There's also other events for guests to attend like a festival dinner, auction, musical entertainment, tulip bingo, and more.
Woodburn, OR
March 24-April 30
Add walking through 40 acres of over 100 types of tulips to your must-do list of the year. Wooden Shoe Tulip Farm is home to over 200 acres of outdoor space, picturesque display beds, and plenty of activities. From a creative children's play zone with duck races and hay bale tent and a tulip tour train to photo cut-out boards throughout the flower fields and small wagons for pulling little ones around the farm, it's pretty perfect for the whole family to enjoy. The festival also has lots of food options like Deliciosa Donuts, Gimme Some Sugar desserts, homestyle eats at The Feedshack, Fat Schlag's corndogs, Hotshot Bar-B-Q, Smith Rock Coffee, and wine tastings at Wooden Shoe Vineyards Tasting Room. Before leaving, stop by the Tulip Market and Field Greenhouse Tent to shop for merchandise, precut flowers, and flower bulbs.
Thanksgiving Point, UT
April 8-May 14
Holland is literally transported to Utah each spring when thousands of tulips are imported directly to Ashton Gardens for this wholesome event. Over 750,000 spring flowers, including tulips, daffodils, hyacinths, poppies, and more make a one-of-a-kind display throughout the 50-acre property. Busy weekend festival days feature live music, food trucks with local restaurants, shopping vendors, and exciting activities for the whole family. Upgraded ticket packages also include premium perks like untimed entry, VIP Parking, one beverage voucher for the concessions, and a gift shop voucher.
Mansfield, MO
April 9-10
Spring is a special time in Mansfield and the gardens at Baker Creek is the best spot for browsing magical flowers during the annual tulip festival! During the two day event, guests have open access to all of the tulip gardens with over 100 varieties of flowers, greenhouse and garden tours, live music, cultural events, informational workshops from local and regional food and garden experts, regional and community food trucks, home and garden vendors, and onsite seed store, bakery, and a shopping boutique.
Cream Ridge, NJ
April 14-Early May
This expansive family operation has roots that trace all the way back to Holland and more that 100 years in the tulip industry. Take a day to visit this farm to stop and smell the tulips, move slowly through the Instagram worthy fields, take pictures (check out #hollandridgefarm for some inspo), find colorful and massive Holland-inspired wooden clogs throughout the farm, and create a beautiful bouquets to take home after your grand adventure. Get your tickets for this annual event early! Last year, it sold out every weekend and will likely have a high demand again. The grounds include up to 15 local food trucks every day and a bakery barn run by the De Luca's House of Cakes for fueling up before or after hitting the flower fields.
Wamego, KS
April 15-16
Join thousands of visitors in this small town on the banks of the Kansas river to see beautiful blooming tulips, over 100 craft and artisan vendors, and more. Vibrant colors paint the town and provide a mellow backdrop for the festival's art and craft fair in Wamego City Park where guests can sample beer, wine, and cider at tasting tents, pick up savory bites from regional food trucks, partake in fun activities like carriage and pony rides, a petting zoo, face painting, and live music entertainment. Don't miss trying homemade ice cream on the Historical Museum lawn and browsing additional flower displays by the Historic Museum, Prairie Town Village, and the Schonhoff Dutch Mill.
Holland, MI
May 6-14
Since 1929, Holland, Michigan (not to be confused with the geographical region in the Netherlands) has grown hundreds of thousands of tulips near the picturesque shores of Lake Michigan and the town's annual tulip festival has drawn in thousands of visitors too. The floral and heritage extravaganza includes national entertainment acts, activities for all ages like the carnival, cultural parades, artisan market, beauty pageants, traditional Dutch dancers and costumes, and a tulip immersion garden curated by world renowned Dutch horticulturist, Ibo Gülsen.
Albany, NY
May 13-14
If your mom is crazy about flowers, take her to Albany to relax and play among 100,000 tulips at Washington Park during Mother's Day weekend. Since May 14, 1949, this annual celebration has become one of the region's most popular events. The whole weekend is jam-packed with two full days of events to celebrate the beauty of tulips and Albany's rich Dutch heritage. It also includes a fine arts show, multiple music stages, a market for handcrafted treasures, children's activities at the Park Playhouse, and local food to make this one-of-a-kind event accessible for the whole family.
Orange City, IA
May 18-20
Celebrate old-world charm at this tulip festival and get a sneak peek of traditional Dutch customs. The annual event has taken place for over 80 years since 1936 and includes thousands of tulips around town. Guest have many sightseeing opportunities to see a dozen replica windmills sprinkled throughout the adorable village and the Orange City Dutch Heritage Museum. The event also included two daily parades, wooden shoe carving demonstrations, nightly musical theater, a carnival midway, Dutch culinary delicacies, and a variety of local comfort food.