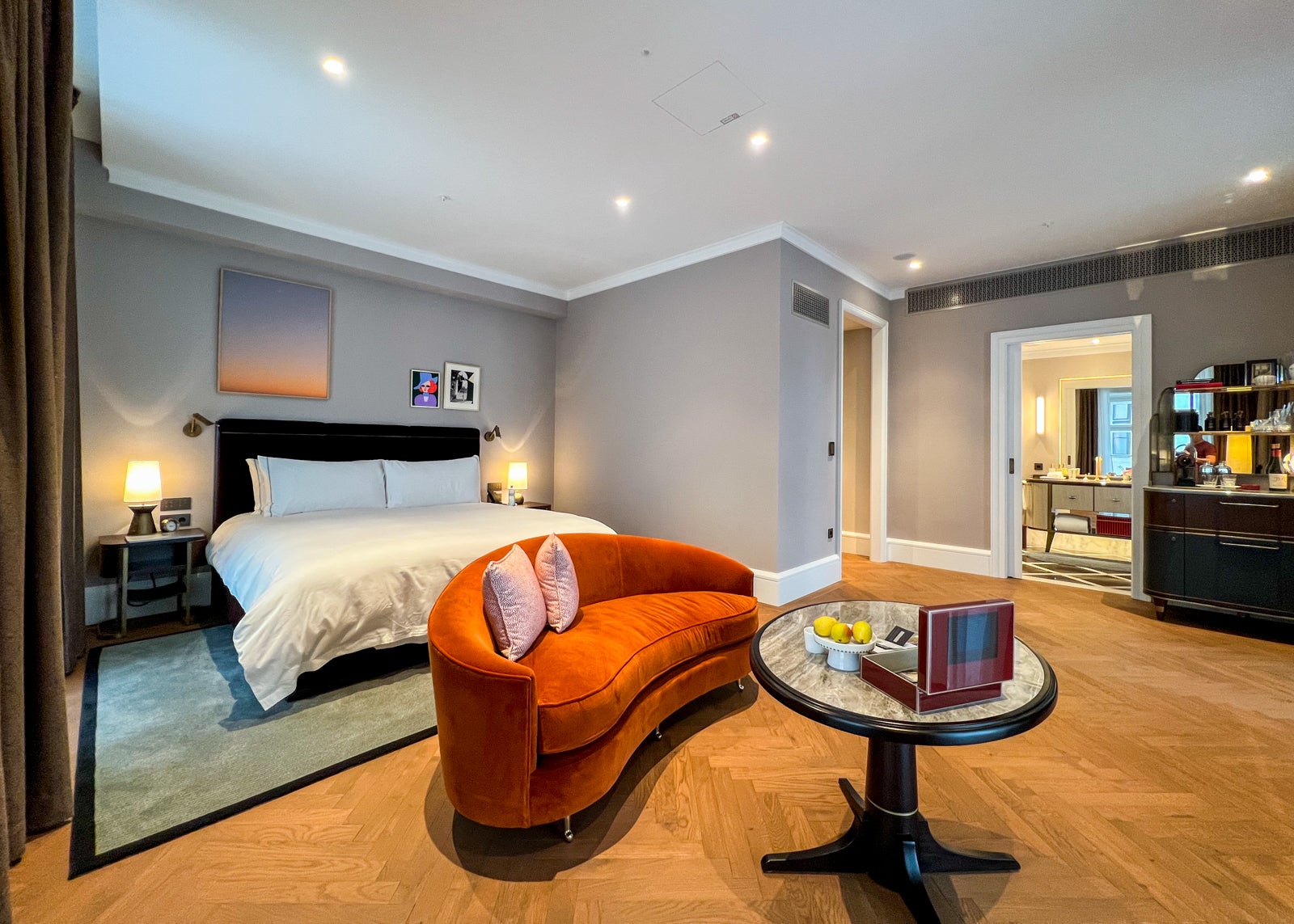 Europe's newest luxury landmark: A review of the Rosewood Vienna
For a city of its size, Vienna has an extraordinary number of luxury hotels, many of which are housed in historical landmarks. Thanks to a mix of mainstays like the Park Hyatt Vienna and The Ritz-Carlton, Vienna, as well as classics like the Hotel Imperial and the Hotel Bristol, the Austrian capital seemed to have reached the saturation point of high-end hideaways with eye-popping price points.
In fact, no new top-tier hotels have appeared in Vienna for the past decade. That is, until the Rosewood Vienna opened its doors in August 2022, taking up residence in a 19th-century former bank building on the picturesque Petersplatz in the heart of the old city.
The property marks Rosewood's first in Austria and only its fifth in Europe, but it has plenty of distinctive elements and amenities to set it apart not just from its cohorts in other cities, but also from the pack of nearby luxury hotels in Vienna. Here's what makes the Rosewood Vienna such a refined redoubt for a stay in one of Europe's most elegant cities.
Getting there
The Rosewood Vienna is located practically in the center of Vienna's historic Innere Stadt. To get there from Vienna International Airport (VIE), a taxi or Uber ride costs approximately 40 euros (about $43) and takes around 30 minutes. You can also catch the VAL 2 bus from the airport to Wien Morzinplatz and then walk for 10 minutes, or take another combination of trains and the metro to Stephansplatz and walk for about five minutes. The hotel is located five minutes from the Herrengasse metro station, too, so much of the city is within easy access via public transportation.
Booking
Rosewood doesn't have its own formal loyalty program, so you'll either want to book directly and check if there are any special discounts, packages or add-ons, or book through an exclusive travel credit card member portal such as American Express Fine Hotels + Resorts to receive elite-like benefits such as complimentary breakfast, on-property credits and availability-based upgrades.
I ended up booking through Cranky Concierge, which participates in the Rosewood Elite program for travel specialists. It was able to secure the same nightly rate of 800 euros ($864) as I found directly through Rosewood, but with the added benefits of early check-in and late checkout subject to availability, a guaranteed room upgrade at the time of booking from a deluxe to a premier room that would have cost 100 euros ($108) more per night, a welcome amenity, complimentary daily breakfast for two at the hotel's restaurant plus a 150-euro ($162) credit toward food and beverage or the spa during my stay.
Standout features
In a city brimming with excellent, unique luxury lodgings, the Rosewood Vienna still manages to stand out in several ways.
The location is phenomenal, and within easy walking distance of many sights and museums, including the Albertina and the Musikverein concert hall (not to mention great shopping).
Gorgeous interior design with art deco-inspired furnishings and gold-tone wall sconces that make guest rooms feel like intimate Viennese pieds-a-terre.
Genuinely warm and friendly service that is solicitous but not overbearing. The concierge and reception staff helps with everything from last-minute museum tickets to personal restaurant recommendations for the city's best schnitzel.
A rooftop cocktail bar with postcard-worthy skyline views and innovative libations inspired by Austria's regions and their singular characters.
The top-floor spa feels like an intimate sanctuary with treatments formulated by internationally renowned biomedical expert Augustinus Bader.
Drawbacks
There aren't many caveats beyond the kinks of a still-new hotel.
It should clear up soon, but Petersplatz and some of the surrounding streets are a warren of construction, which means some unwanted ambient noise as well as difficulty guiding taxis and Ubers to the entrance.
Although grand, the entry atrium feels empty and sterile, and could benefit from an on-hand representative greeting and guiding guests as they enter or exit the hotel.
Breakfast service at Neue Hoheit Brasserie can be uneven; attentive and efficient one day then lackadaisical and lagging another.
The small size of the Asaya Spa and shared men's and women's facilities might put off some spagoers.
The price point: Everything from room rates to dinner entrees to spa services will need its own line item in your budget. That's to be expected, but also to be aware of, at this level of luxury.
1 of 3
ERIC ROSEN/THE POINTS GUY
The vibe
Located on one curving edge of Petersplatz, facing the ornately baroque St. Peter's Church with its massive green copper dome, the hotel occupies the 19th-century former headquarters of Erste Group Bank AG. The striking neoclassical facade incorporates several historical buildings, including one where Mozart once lived and wrote "The Abduction from the Seraglio."
Sign up for our daily newsletter
1 of 3
ERIC ROSEN/THE POINTS GUY
Step inside, however, and you're in a contemporary, light-filled atrium with a spiral staircase (or an elevator) to take you up one level to the living room-like lobby. Its unique chandeliers (from Serip Organic Lighting, as the on-duty manager proudly informed me), objets-filled shelves and art-adorned walls, intricate parquet flooring and curviform velvet couches and chairs practically beg you to linger over cappuccinos and a chat about the city's best galleries.
1 of 6
ERIC ROSEN/THE POINTS GUY
Given the hotel's small size (just 71 rooms and 28 suites) and circuitous hallways, you're unlikely to run into many other well-heeled guests except at breakfast in the slant-roofed Neue Hoheit Brasserie on the sixth floor, or perhaps as they enlist help from the bellmen with cartloads of purchases from the nearby fashion boutiques.
The room
Rosewood's whole philosophy is about imbuing each property with a distinctive sense of place, and that certainly holds true at Rosewood Vienna. Walking into your room feels like taking a step back in time to the city's 1920s heyday thanks to the art deco feel of simple but richly toned Backhausen upholstery, velvet couches and billowing, bronze-tone curtains framing enormous windows that look out onto either the atrium or the street.
1 of 10
ERIC ROSEN/THE POINTS GUY
Nods to the city's art heritage also abound, with contemporary paintings and photographic prints gracing the wall behind the almost-too-comfortable-to-vacate bed, and sculpted brass light sconces meant to evoke edelweiss that also call to mind Gustav Klimt's "Woman in Gold." But well-labeled consoles to control the lighting and temperature plus an enormous flat-screen television that can display the hotel's various amenities, such as room service menus, contemporize the experience.
1 of 8
ERIC ROSEN/THE POINTS GUY
The spacious bathroom has regal black and white marble tiling and a stand-alone, glaze-topped vanity with custom lighting as well as a deep soaking tub, separate water closet and walk-in shower provisioned with citrusy Maison Caulieres products. (Don't worry, the shades and curtains here, as out in the main room, can be lowered with the touch of a button.)
1 of 11
ERIC ROSEN/THE POINTS GUY
An almost theatrical minibar with a walnut frame, gray marble counter and scalloped shelves (plus cut-crystal glassware) conceals local goodies such as hazelnut Manner Wien wafer cookies, Mozart-Wurfel chocolates and a selection of cocktails inspired by various Viennese attractions, like the Red Carpet, which is a take on the mai tai and alludes to the Vienna State Opera.
1 of 2
ERIC ROSEN/THE POINTS GUY
Food and drink
Not quite open for my visit, the hotel has a reception-level cafe and bar that is a tribute to Vienna's famous coffeehouses called Salon Aurelie, where the garden-like decor is a reference to the Palmenhaus conservatory.
The hotel's main restaurant, Neue Hoheit Brasserie, has panoramic wraparound windows framing city views from its sixth-floor perch, and two- and four-top tables set along deep banquettes or surrounded by rosy-hued velvet chairs and purse stools.
1 of 12
ERIC ROSEN/THE POINTS GUY
Breakfast is an unhurried affair with both international and classic Austrian items that range from avocado toast ($14) to soft-boiled "eggs in a glass" with chives and toasted brioche, ham with freshly grated horseradish and a variety of cheeses, plus coffee, and a variety of fresh fruits and pastries ($21).
1 of 5
ERIC ROSEN/THE POINTS GUY
Come back at sunset and take the staircase up one level to the bolt-hole cocktail bar, which has a cozy, wood-paneled interior. Folks can gather around the bar and watch the mixologists in action twirling and shaking various bottles and decanters as well as low-set tables and a communal counter. There's an alfresco terrace with high-tops for visitors who prefer fresh air as they imbibe imaginative libations. The Burgenland is an earthy concoction of Americano, peach, walnut bitters and a dehydrated beet topper served on the rocks in a highball ($19).
1 of 9
ERIC ROSEN/THE POINTS GUY
After your aperitif, saunter back down to the dining room for a lavish dinner that might include oysters on the half-shell ($43 for six); caviar with all the fixings ($96); Asian-fusion fare like a poached lobster salad with spicy slaw, papaya and tangy Japanese vinaigrette ($23); and a juicy Austrian dry-aged beef filet ($43) seared on the Josper charcoal grill accompanied by a glass of fruit-forward Zagersdorf Sankt Laurent ($22).
1 of 3
ERIC ROSEN/THE POINTS GUY
Amenities and service
A hotel this high-end means high-touch service, so don't be surprised if, a week before your stay, one of the hotel's friendly concierges reaches out via email to ask if you need any help with restaurant reservations, tours or museum and concert tickets. And don't hesitate to put them to work.
An offhanded comment about my potential late arrival led to them making me a proactive booking for dinner at cheery nearby Oswald & Kalb for traditional Wiener schnitzel … just in case I felt peckish when I got in (and after a welcome glass of Louis Roederer Champagne while checking in, I did).
1 of 4
ERIC ROSEN/THE POINTS GUY
A mention of a visit to the Belvedere Museum prompted them to secure me a ticket for a timed entry in advance to save me both time and money, and a casual question about the gorgeous light fixtures in the reception area resulted in a hand-delivered, handwritten note explaining their provenance and a nearby store where I could peruse other examples.
1 of 13
ERIC ROSEN/THE POINTS GUY
When I stopped by the fifth- and sixth-floor Asaya Spa (the first outside Asia) to have a look, I was rewarded with a guided tour so I could see the locker rooms and the coed showers and relaxation area with gorgeous views of St. Peter's for myself — not to mention plenty of background information on biomedical expert Augustinus Bader and his product lines, with which the spa is cobranded.
The hotel is also home to a spacious and well-equipped gym that can be a puzzle to find thanks to the building's idiosyncratic layout, but that has plenty of Technogym machines and weights.
1 of 7
ERIC ROSEN/THE POINTS GUY
Out and about
The hotel is a two-minute walk from the towering St. Stephen's Cathedral and the pedestrian-friendly Graben with its many shops and cafes. It's also adjacent to the city's so-called Goldenes Quartier, a haven for high-end shopping thanks to flagship boutiques from international brands like Louis Vuitton and Prada as well as some of Vienna's most popular cafes and restaurants, including Zum Schwarzen Kameel.
1 of 7
ERIC ROSEN/THE POINTS GUY
Art lovers can take advantage of its proximity to some of the city's landmark museums, such as the Albertina and the former Habsburg palace complex of the Hofburg. But be sure to leave time for a snack or impromptu meal of Austrian delicacies or Middle Eastern and Asian bites at the Naschmarkt open-air food market.
Accessibility
Per the European Union's accessibility guidelines, the Rosewood Vienna offers wheelchair-accessible rooms and, thanks to various elevators, guests with mobility issues can avoid stairs on the way to their accommodations as well as to the restaurant and bar.
1 of 5
ERIC ROSEN/THE POINTS GUY
That said, it would be prudent to contact the hotel directly to ensure you secure a room with accessibility features that meet your requirements.
Checking out
Vienna has a surfeit of luxury hotels, but the new Rosewood Vienna still manages to stand apart from the pack thanks to an aesthetic that blends classic and contemporary décor and amenities, top-notch service, and one of the best locations in the city for both shopping and sightseeing. Although its high price point will automatically rarefy its clientele, their money will be well spent at this gorgeous new Viennese landmark.
Curious to learn more about maximizing luxury hotel bookings? Check out these related posts: