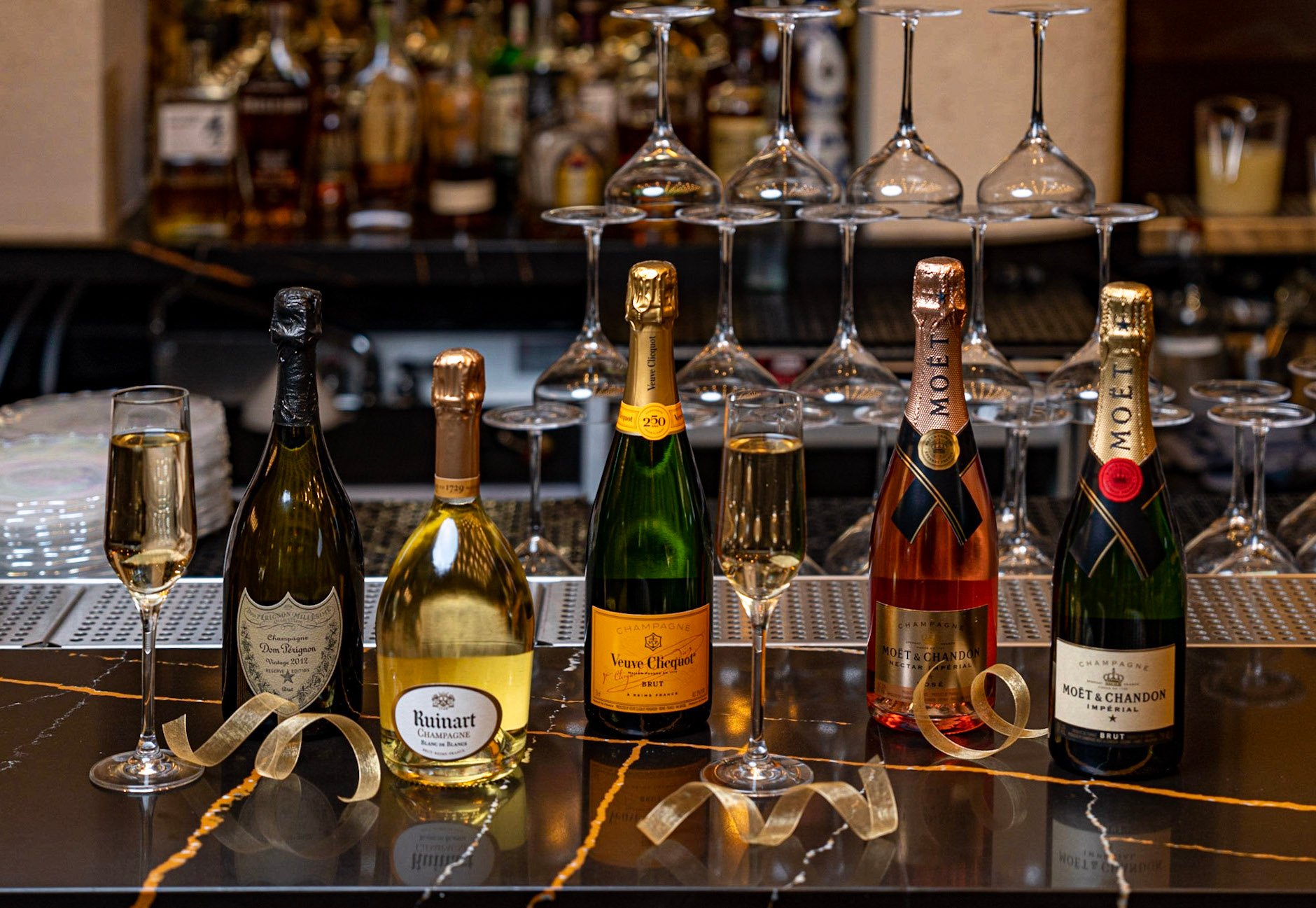 New Year's Eve 2022 Dinners, Parties, and Shows Around DC
New Year's Eve bubbles at L'Ardente. Photograph by Nick Fuentes Photography.
Whether you're looking for a Champagne-filled fancy dinner or a decked-out bar crawl, here's a list of what's going on this New Year's Eve.
Parties
Fight Club
633 Pennsylvania Avenue SE
Fight Club is throwing it back to the 2000s for its New Year's Eve party. Take a pic by the Polaroid photo wall and snack on some Dino nuggets, "Lunchables," and Dunkaroos. No tickets are needed, but there is an optional drink ticket which scores you bottomless punch, wine, beer, and cider from 8 PM until 1 AM. 
Fitzgerald's
1232 36th Street NW
Enjoy all-you-can-eat hors d'oeuvres and an open bar with wine and cocktails. Music will have you up on your feet, celebrating the new year. Tickets are $175, and the event begins at 9 PM. 
Clyde's Tower Oaks Lodge 
2 Preserve Parkway, Rockville 
From 10 PM to 1 AM, break out your dancing shoes and get down with the DJ at this Rockville restaurant. Don't forget to grab a flute of Champagne for the midnight toast. No tickets needed for this event. 
Le Diplomate 
1601 14th St., NW
The popular brasserie is hosting its first ever New Year's Eve party. The French-inspired event will host a live jazz trio, a photo booth, and endless Champagne. The event will run from 10 PM until 2 AM, and tickets are $225.  
L'Ardente 
200 Massachusetts Ave., NW
This chic Italian restaurant will have hors d'oeuvres, a decadent buffet, a Champagne toast, and dancing. Feast on oysters, smoked salmon and tuna crudo from the seafood bar or beef tenderloin, veal or porchetta with truffled jus from the carving station. Tickets are $250 and include the buffets, a welcome cocktail, and a Champagne toast at midnight. 
ChurchKey 
1337 14th St., NW
This all-inclusive event features cocktails and breakfast sandwiches after the ball drops. The party kicks off at 9 PM and tickets are $100. 
Union Pub
201 Massachusetts Ave., NE
Swifties and non-Swifties alike are invited to this Midnights-themed kegger. Take advantage of five hours of all-you-can-drink beer, rail drinks, wine, and a midnight Champagne toast. Tickets are $85 online, and $110 at the door. 
Bottles Wine Garden 
2500 Pennsylvania Ave., NW
From 8:30 PM to 12:30 AM, sip on Bottles' favorite wines and Champagnes of the year at this silent disco party. DJ Don Chirashi will be spinning soulful house, Latin music, and top 40. Tickets are $140 and can be purchased online. 
Ciel Social Club 
601 K St., NW
The rooftop lounge has been transformed to 'Ciel Chalet,' with Scandinavian-cottage style vibes and a full-sized snowmobile on site. Enjoy panoramic views of the DC skyline and an open bar from 9 to 11 PM. Tickets are $150. 
Allegory
1201 K St., NW
Partiers will be treated to beautifully crafted cocktails at the open bar, and can snack on bites from Michele's, the French-American restaurant in the Eaton hotel. The DJ will be spinning vinyls all nigh. Tickets are $200, and the event begins at 9 PM.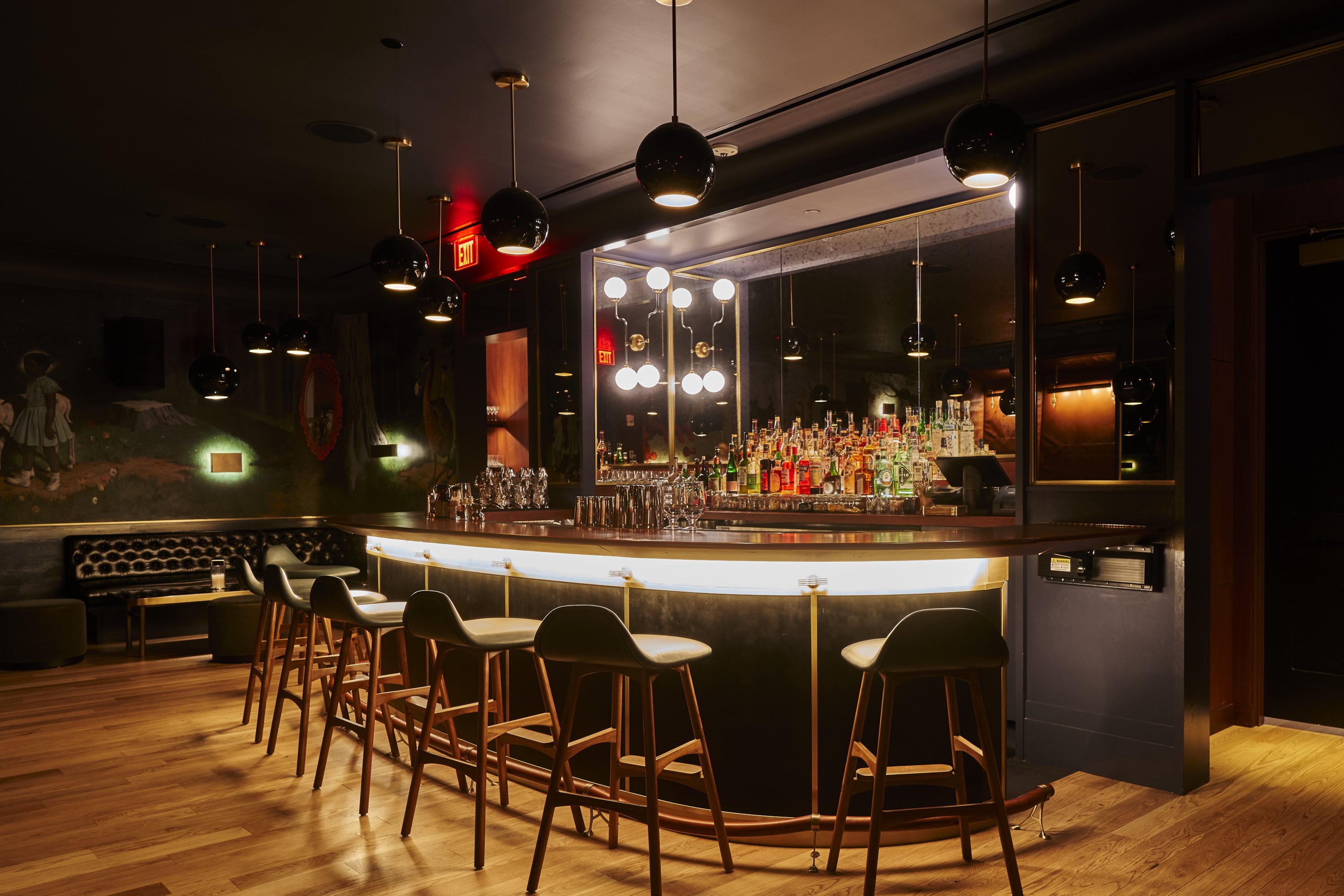 Heist 
1802 Jefferson Place, NW
This hit DC nightclub is back with a new bespoke design. Champagne will be flowing and DJ Blizzy will keep the dancing going all night long. Single tickets are $75, couples are $140, and a ticket with a two hour open bar is $125. 
Atlas Brew Works
201 Half St., SW 
Enjoy four hours of bottomless drafts, wines, and cocktails. Add in a bottle of 202 Brett Lager for the ball drop toast. Tickets are $75, and the event starts at 9 PM. 
Umaya 
733 10th St., NW
Don't miss the 15th National Masquerade Ball from 9:30 PM to 3 AM. Enjoy an hour of complimentary cocktails from 9:30 to 10:30 PM as well as Japanese Izakaya style hors d'oeuvres. The TVs will be turned to the Times Square celebrations while DJ Q spins mashups of pop, hip-hop, and house. Tickets are $55.
Mission – Navy Yard
1221 Van St., SE 
Grab a pitcher of margaritas at the four-hour open bar and snacks at the appetizer buffet. The Mexican restaurant has five different bar areas. Tickets are $117.
Maggiano's 
5333 Wisconsin Ave., NW  
Enjoy dinner and a show at this murder mystery party in Chevy Chase. The show starts at 7 PM. Tickets are $115 and include dinner, two drink tickets, and a midnight Champagne toast. 
The Park 
920 14th St., NW
Party like Jay Gatsby at this event with sparkly decor and guests are expected to dress to the nines. Tickets are $70.
Dirty Habit 
555 8th St., NW
Attend a French chalet-themed gala with cocktails and appetizers all night, with complimentary open bar from 9 to 10 PM. Tickets are $75. 
The U St Bar Crawl
1326 U St., NW
Get free entry to seven different bars and clubs on U Street, as well as drink specials and free swag. Bars include the Alchemist, Cloak & Dagger, Voodoo, and Amsterdam Lounge, among others. The first 200 guests to arrive at the Alchemist will get a complimentary glass of Champagne. Tickets are $10. 
Performances
Echostage 
2135 Queens Chapel Rd, NE
Rounding out their "10 Years of Echostage" series is Above & Beyond, with special guests Kasablanca and Andrew Bayer. General admission tickets are $75. 
The Hamilton Live 
600 14th St., NW
Jam out to New Orleans' Rebirth Brass Band and The Beat Hotel for a night of funk and R&B. Doors open at 7:30 PM, and the concert begins at 9 PM. There will be seated sections as well as a general admission pit. Seated tickets are $85 and standing are $40. 
Howl at the Moon
900 7th St., NW
Dance to live music all night and enjoy a premium open bar. There are ticket packages for groups, but an individual ticket for standing room is $75 and includes three hours of unlimited cocktails and a complimentary Champagne toast at midnight. Tickets can be purchased online.
Dinners
Beuchert's Saloon 
623 Pennsylvania Avenue SE
Enjoy a four course meal from chef Andrew Market with roasted lobster, truffle agnolotti, caviar service, and rosé apples. Guests can also add on the fancy ($65) or fancy pants ($90) drink pairing package. Tickets are $145 per person.
Caruso's Grocery 
1401 Pennsylvania Ave., SW
The special New Year's Eve three-course prix-fixe menu will feature all the staples: semolina-dusted calamari, eggplant rollatini, alfredo pasta with truffle butter, and tiramisu. Reservations are available from 5 to 9:45 PM. Dinner costs $95, reservations can be made online. 
Boqueria, Penn Quarter
799 9th St., NW 
Dig into your favorite tapas and unlimited house cocktails from with a prix-fixe menu with bacon-wrapped dates, lamb skewers, garlic shrimp, and cinnamon-sugar churros. There are two seatings, from 6:30 to 9 PM, and from 9:30 to midnight, which will include a Champagne toast when the clock strikes 12. Reservations can be made online and are $135 per person. (The Dupont location is a la carte.)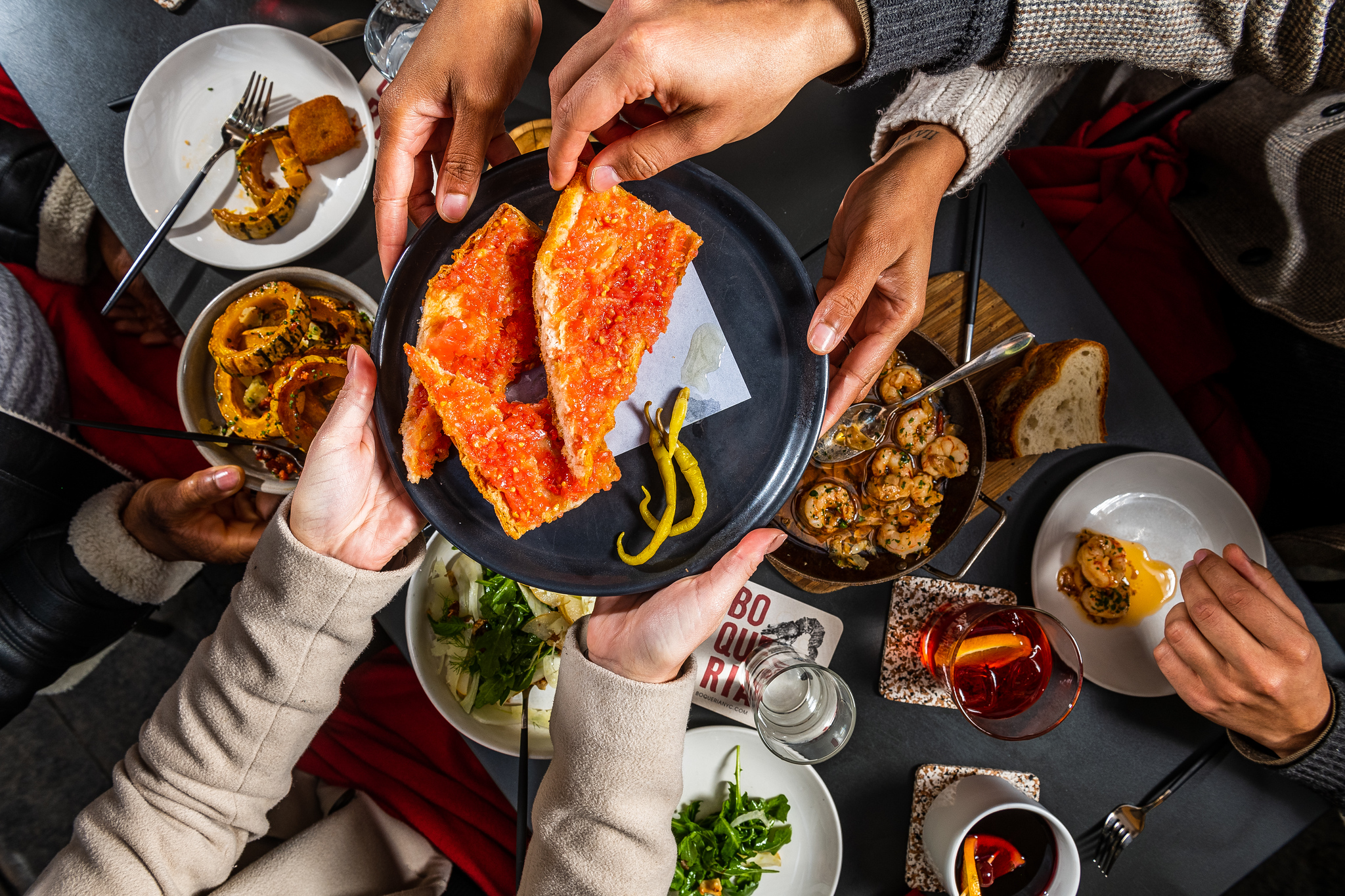 Tonari 
707 6th Ave., NW
This Japanese-Italian fusion restaurant will host a five-course prix-fixe dinner, including dishes like bolognese with nishiyama tagliatelle, unagi pizza with broiled eel, and sesame oil cake. Reservations are $99 and can be made online. 
Lyle's
1731 New Hampshire Ave., NW
This four-course menu includes lobster bisque, foie gras with blackberries and fig jam, and beef Wellington with "exotic" mushrooms. Reservations are available from 5 to 11 PM for $115 and can be made online. 
Joe's Seafood, Prime Steak and Stone Crab 
750 15th St., NW
Crack some stone crab knuckles and enjoy a complimentary Prosecco toast. Their full menu will be offered, and reservations can be made online. 
Shoto
1100 15th St., NW
The prix-fixe menu will include lobster tempura, a wagyu ribeye, and a chef's selection of sushi and maki. Their 5 PM seating is $295 and will include a glass of Champagne. The 9 PM seating is $495 and will include a bottle of wine between every two guests. After midnight, the restaurant will transform into a party, with bottle service and reservations required. 
The Bombay Club
815 Connecticut Ave., NW 
Indulge in rich Indian flavors with dishes like dhingri shorba, achari lamb, paneer pasanda, tandoori lamb chops, and a mango crème brûlée. The four-course meal is $85 and reservations can be made online.
Compass Rose
1346 T St., NW
Eat flavors from around the world with this prix-fixe menu that features a Japanese soba noodle salad, Turkish steak kebabs, and a German marzipan pig. Vegetarian options are offered, and guests can sit inside the cozy dining room, or their heated outdoor patio. Reservations are $75. 
Residents Café & Bar 
1306 18th St., NW 
Sit on the elaborately decorated, heated outdoor patio, or grab a table on the indoor mezzanine to celebrate the new year. The four-course prix-fixe menu includes oysters, lobster risotto, poached halibut, stuffed squash, and a white chocolate raspberry tart. Reservations are $160 and can be made online.
Anju 
1805 18th St., NW
This Korean standout will offer a five-course meal with dishes like lobster kimbap, truffle honey butter wings, a barbecue plate with pork belly, shrimp and chicken, and a tangerine panna cotta. Tickets are $125.
L'Avant-Garde
2915 M St., NW 
The newly opened Georgetown restaurant will be rolling out an upscale five-course dinner, featuring duck foie gras with a caramelized beignet, Amish chicken in walnut crust with black truffle coulis, and a chocolate mille-feuille. Guests will also receive a welcome cocktail and a Champagne toast. Reservations are $265 and can be made online.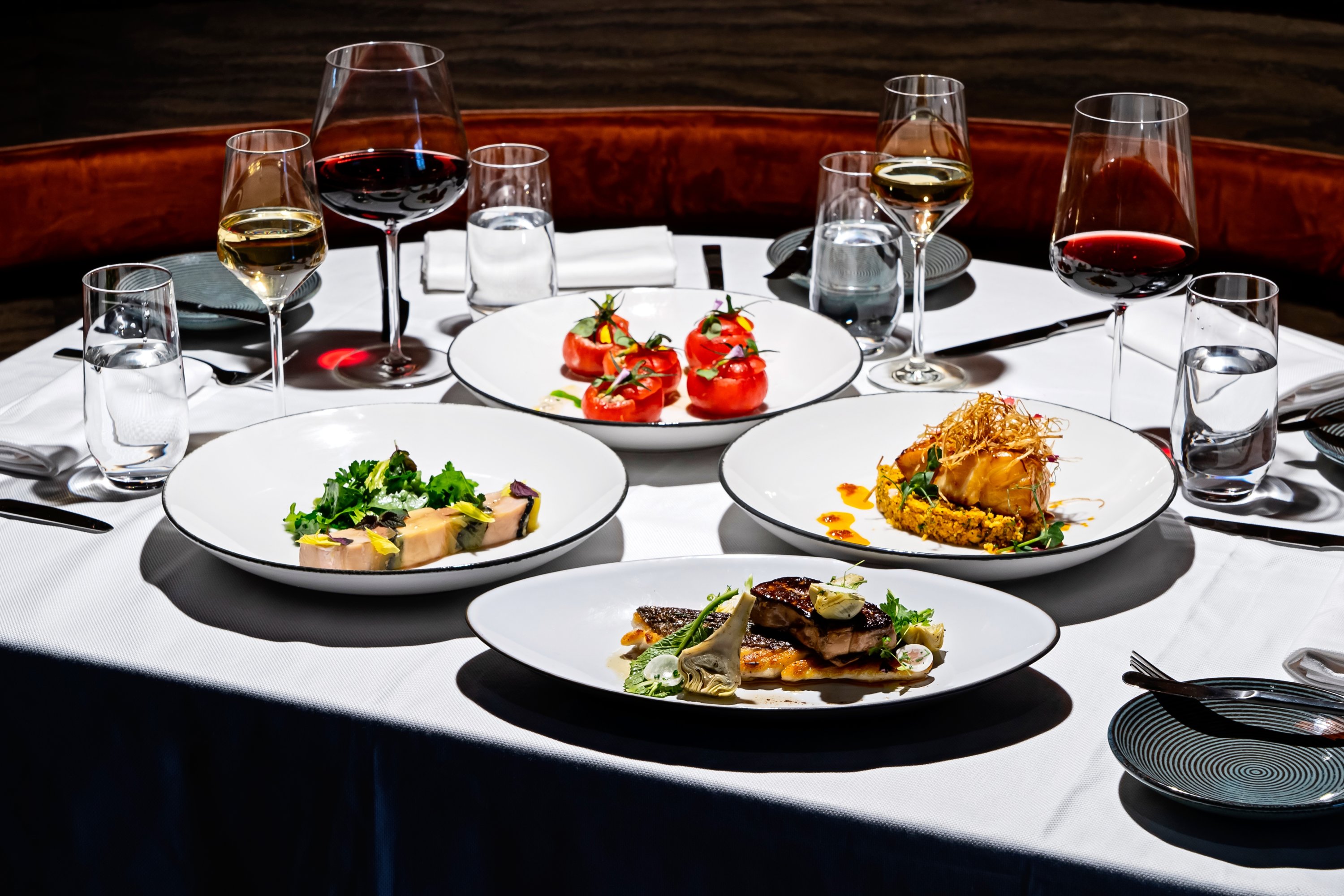 Zaytinya
701 9th St., NW
Dive into this Mediterranean five-course meal with dishes like caviar prassopita, celebration rice, knisa lamb chops, shish taouk, and their staple olive oil cake. Reservations are $95 per person and can be made online. 
District Winery 
305 Water St., SE
The first seating at 6 PM will have four courses, and the second at 9 PM will have five. Expect decadent dishes like red king crab with caper hollandaise and caviar, and beef Wellington with foie gras and bordelaise. Tickets are $150 for the first seating and $175 for the second, with the option to add the pairing for $40 and $60, respectively. Reservations can be made online. 
Happy Hours
Boundary Stone
116 Rhode Island Ave., NW
Open from 11 AM until 9 PM, the Bloomingdale bar will be running happy hour deals: $5 local drafts, $6 select wines by the glass, $6 draft old fashioneds and Manhattans, $7 sandwiches, and $1.50 oysters.  
The Imperial 
2001 18th St., NW
From 11 AM until 10PM, enjoy half-priced seafood towers, $2 oysters Rockefeller, and $11 cocktails (plus $45 bottomless mimosas and bloody marys until 4 PM). No tickets required, reservations are available online.