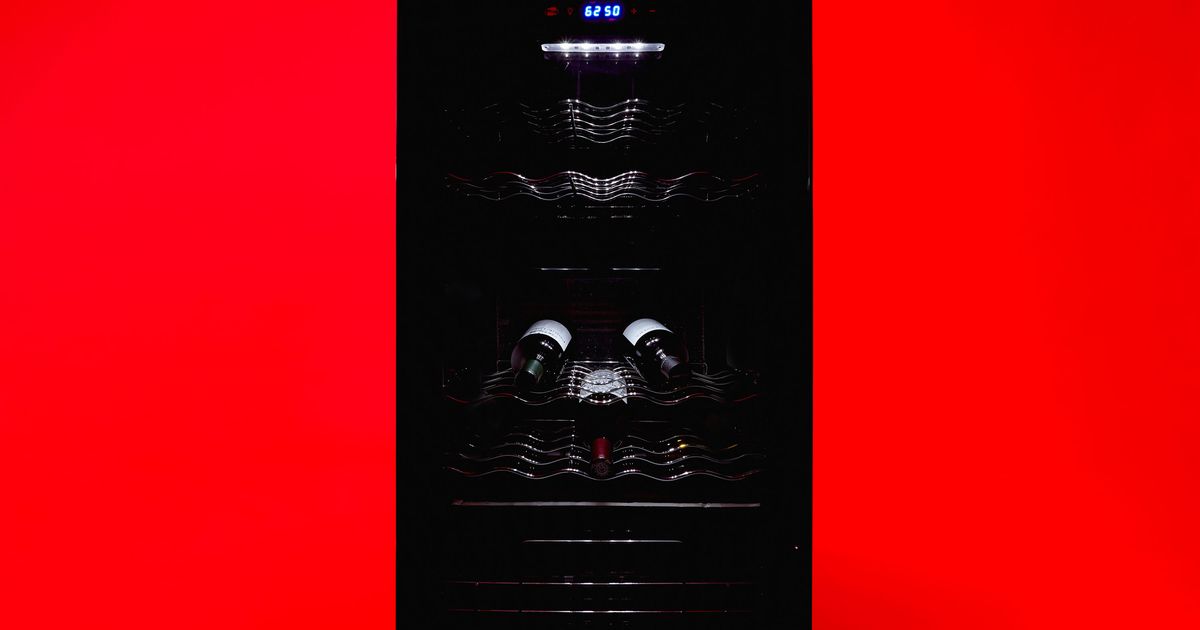 The Best Wine Coolers and Fridges 2023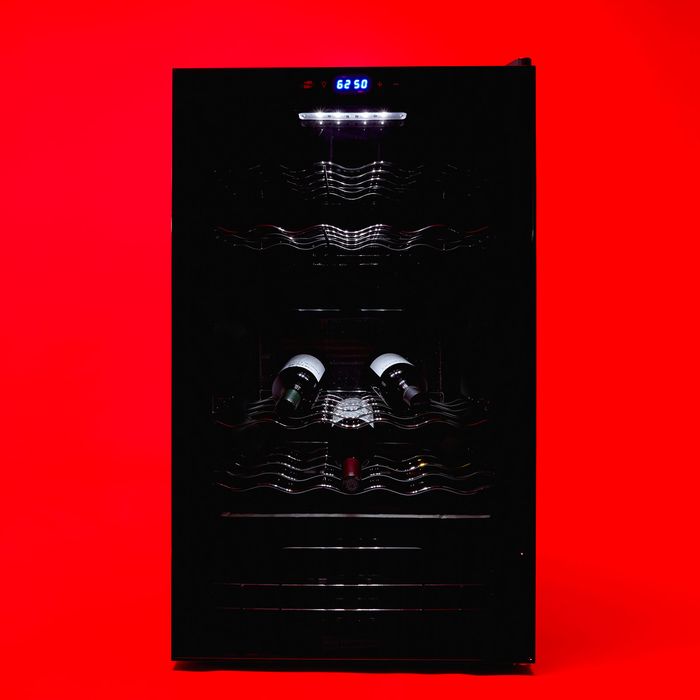 If you're a serious wine collector without access to an actual cellar, it makes sense for you to have a wine fridge. But even if you're not saving particular vintages for years and years, one can come in handy when you start struggling to fit groceries in between the stacked bottles in your refrigerator.
The problem with buying a proper wine fridge is that they aren't cheap, and when you're shopping online, they all kind of look the same. If you're spending this much money on a new home appliance, you want to be sure it actually works — and that it works for you. Maybe you truly require space for a ton of bottles (we're jealous), or maybe you need one that fits into a compact kitchen.
To help you find the perfect wine cooler for the way you drink, I talked to nine sommeliers, winemakers, and restaurateurs about the wine coolers and fridges they trust with their own bottles.
How many bottles you need to fit in your wine fridge will come down to the size of your personal collection. You should have a sense of the number of bottles you tend to store, drink, and replace month to month when making your decision. However, the one thing to keep in mind is that bottle capacity is typically measured using standard-size Bordeaux bottles. The actual number of bottles you can store will fluctuate if your collection includes bottles that are not standard size.
Dual-zone fridges allow you to set two different temperature zones within your fridge, which is ideal for those who drink both red and white wine. The trade-off is that because dual zones require the fridge to be split in half, you lose some storage room. Single-zone fridges, on the other hand, keep the entire fridge at one temperature and tend to have more flexibility in their storage because there is no divider.
Lastly, you'll want to measure the space you have in your home and pay close attention to the dimensions of each fridge below to ensure it will fit once it arrives at your door.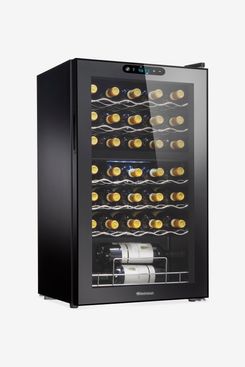 Capacity: 32-bottle | Single- versus dual-zone: Dual-zone | Dimensions: 33.4" x 19.6" x 16.9"
Even though he has a lot of bottles of wine in his collection, Roth has found that he only needs a small wine cooler, since the bulk of the bottles can be stored in his dark, temperature-controlled basement, and he recommends this compact cooler from Wine Enthusiast. Brittany Villafañe, the head sommelier at DB Bistro Moderne, also recommends this cooler from Wine Enthusiast. She told us she's a general fan of the brand and that she likes how this specific model offers dual temperature zones so you can properly store your whites along with your reds at optimum temperature. Dual-zone fridges are also great for people who enjoy entertaining because both white and red wines can be served at their own best temperatures straight from the fridge. Finally, Chris Leon, the owner of Leon & Son in Brooklyn, echoes these sentiments. "The Wine Enthusiast line of fridges are incredibly reliable and hold temperature incredibly well," he says. "My old one saw many moves before finally dying after six years. Worth every penny."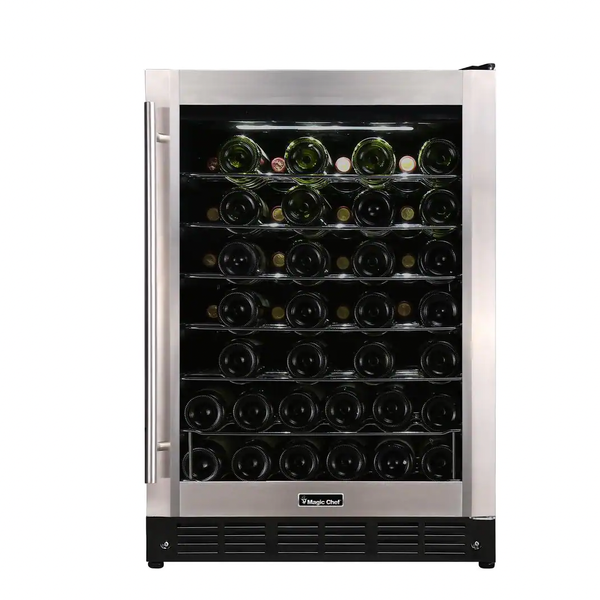 Capacity: 50-bottle | Single- versus dual-zone: Single-zone | Dimensions: 33.9" x 23.4" x 24.3"
If you're looking for something even cheaper, Annie Shi, beverage director at King and Jupiter, promises that you don't need anything fancier than this affordable fridge from Magic Chef. Shi, who has five different fridges in her home, had this one for eight years before deciding to upgrade. At a 50-bottle capacity, she says it's the "perfect-size fridge, even for a New York City apartment." If you're tight on space, she also shares this tip: "Use it as a side table. Put a nice tray on it, some books, and a few wine glasses."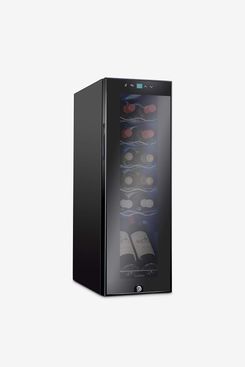 Capacity: 12-bottle | Single- versus dual-zone: Single-zone | Dimensions: 34.4" x 23. 9" x 26.4"
Once her collection started to accumulate beyond a handful of bottles, Katie O'Byrne, the director of recruiting at Kitchen Culture and former sommelier at Otium in downtown Los Angeles, bought an Ivation 12-bottle fridge on Amazon. "It's quiet, compact, and super-easy to set up; it was able to reach 50 degrees Fahrenheit within 20 minutes of plugging it in, which meant I was on to my third bottle of chilled white wine an hour after it arrived on my doorstep," she says.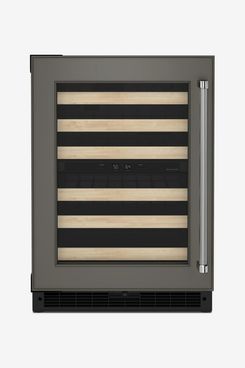 Capacity: 46-bottle | Single- versus dual-zone: Dual-zone | Dimensions: 34.3" x 23.9" x 26.4"
In addition to giving us his own recommendation, Marquez pointed us to this wine fridge used at home by Lincoln Ristorante's executive chef, Shea Gallante. It's admittedly pricier than others on this list (though not the most expensive), but Gallante says he's used it for more than seven years without any problems and that the sleek-looking cooler fits seamlessly into his kitchen design. Indeed, KitchenAid products are often praised as the best in class for both their quality construction and good looks (we've called the brand's stand mixer the "Kleenex of stand mixers"), which is why you might recognize its wine fridges in photos of home-decor influencers' butlers pantries on Instagram. Gallante's favorite model allows you to customize the door panel to match your cabinets, but if you'd rather skip that step, you can choose between black or stainless-steel doors. Plus, it features dual-zone temperature control, UV-protective glass, and a lockout control to avoid accidental or unsupervised access to your bottles.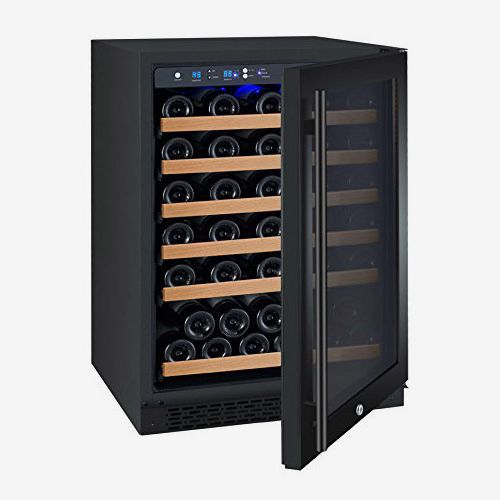 Capacity: 56 bottles | Single- versus dual-zone: Single-zone | Dimensions: 33.9" x 23.4" x 23.6"
If you're the type of wine enthusiast who insists on a professional-grade fridge for at-home use, Zach Jones, the wine director at Chicago's Pacific Standard Time, suggests Allavino's single-zone fridge. Jones says they use Allavino Flexcount Classic Series wine refrigerators at the restaurant, but "they are actually perfect for home use as well," he says, adding that you'll generally want your at-home model to have about a third of the capacity of a commercial version. At the restaurant, they have a few of the 174-bottle models, but for home use Jones says the 56-bottle model "works beautifully."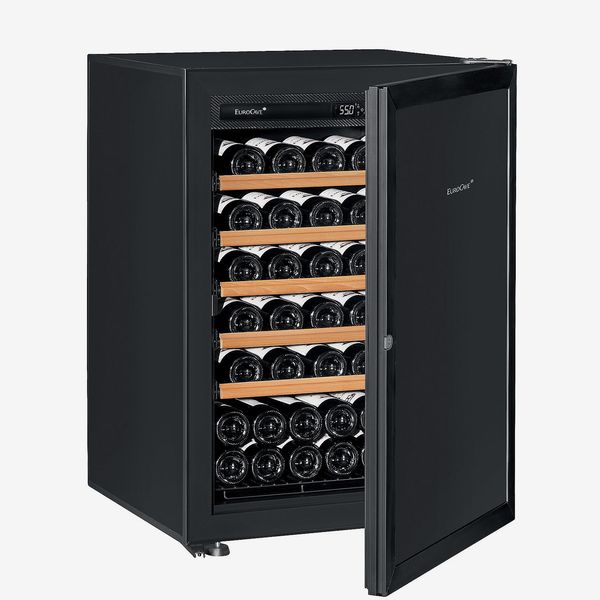 Capacity: 74-bottle | Single- versus dual-zone: Single-zone | Dimensions: 38" x 27" x 27.25"
"The EuroCave is the Cadillac of fridges," says Leon. "You see them dotted around Michelin-starred restaurants and in the homes of the savviest consumers. They're beautiful, quiet (really key if you live in an apartment), and hold temperature." Joe Campanale, the owner and beverage director at Fausto in Brooklyn, agrees. "I know they are super-pricey, but I love anything EuroCave, and I've always had great experiences with them at home," he says, calling these fridges "nearly indestructible," and adding that when he's tried less expensive models, "they haven't held up as well." One of the nice perks of this expensive 74-bottle wine fridge is that the door is opaque, unlike the other fridges on this list, which use tinted glass that will protect your bottles from UV damage when you're storing them for years rather than months. Another attractive feature is that the interior is entirely customizable, allowing you to choose the number of adjustable shelves as well as the orientation of the door, which is especially great for those with cramped kitchens. Plus, it's lockable, "so it's great if you want to keep your wine away from your teenagers or your guests crashing at your place while you're out of town," Campanale explains.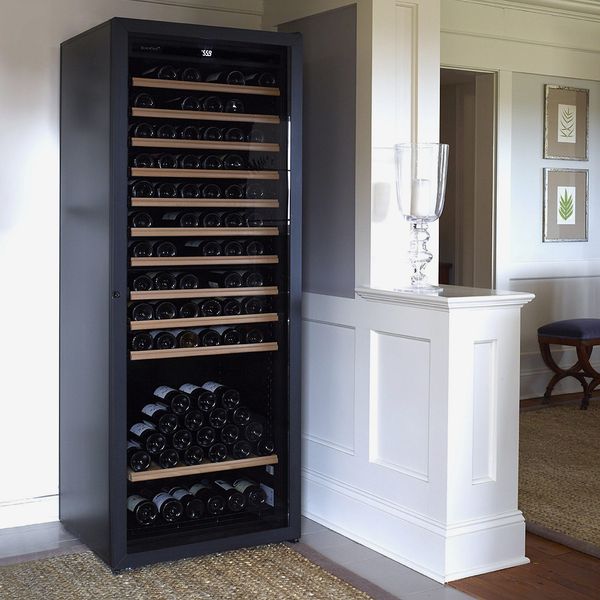 Capacity: 178-bottle | Single- versus dual-zone: Single-zone | Dimensions: 72" x 27" x 27.25"
If you have a large collection, Cedric Nicaise, the wine director at Eleven Madison Park, also recommends a model from EuroCave, for many of the same reasons as Campanale. With a bottle capacity of 178, "this is one of the best models if you are looking to maximize capacity; it's just about the most wine you can store in this amount of space." While the Premiere L is certainly expensive, it's in line with fridges with similar capacity and features. Plus, if you've already spent money on a 100-plus wine-bottle collection, investing in a fridge that will protect it is a no-brainer. And EuroCave's signature features, including a customizable solid door, precise temperature regulation, and a locking mechanism, will ensure that your bottles are kept pristine long-term.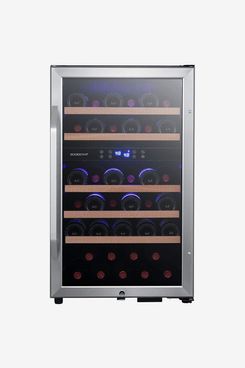 Capacity: 38 bottle | Single- versus dual-zone: Dual zone | Dimensions: 19.38" x 23" x 32.88"
If you're operating with limited space but still want to be able to collect wine, this 20-inch fridge from EdgeStar is ideal. Nialls Fallon, co-owner and drinks director at The Fly, Cervo's, and Hart's in Brooklyn, says it's the only one they keep under the bars at their restaurants: "It takes busy service abuse and keeps going." In fact, he says the one they installed at Cervo's almost fours years ago "still holds temperature perfectly."
• Joe Campanale, Fausto owner and beverage director
• Nialls Fallon, co-owner and drinks director at The Fly, Cervo's, and Hart's in Brooklyn
• Shea Gallante, Lincoln Ristorante's executive chef
• Chris Leon, owner of Leon & Son in Brooklyn
• Justin Marquez, general manager of Lincoln Ristorante
• Cedric Nicaise, Eleven Madison Park wine director
• Katie O'Byrne, director of recruiting at Kitchen Culture and former sommelier at Otium
• ​​Roman Roth, winemaker and partner at Wölffer Estate Vineyard
•Annie Shi, beverage director at King and Jupiter
​​• Brittany Villafañe, head sommelier at DB Bistro Moderne
Additional reporting by Liza Corsillo, Nikita Richardson, Emma Wartzman
The Strategist is designed to surface the most useful, expert recommendations for things to buy across the vast e-commerce landscape. Some of our latest conquests include the best acne treatments, rolling luggage, pillows for side sleepers, natural anxiety remedies, and bath towels. We update links when possible, but note that deals can expire and all prices are subject to change.
Every editorial product is independently selected. If you buy something through our links, New York may earn an affiliate commission.